After you add a new theme or plugin tracker to your WP Lookout account, we start monitoring it for you right away. Our monitoring includes periodic checks of the publicly available information about themes and plugins from the directories and repositories where they are hosted, including the WordPress.org plugin directory and the WordPress.org theme directory. We go out and make these checks so that you don't have to!
As soon as we detect that a new version is released, or if the changelog is updated, ownership is shifted to someone new, or any of a number of other data points about a theme or plugin are changed, WP Lookout records that event and adds it to your recent tracking event history timeline in our application. You can always view the most recent tracking events in the "Latest Activity" screen within WP Lookout.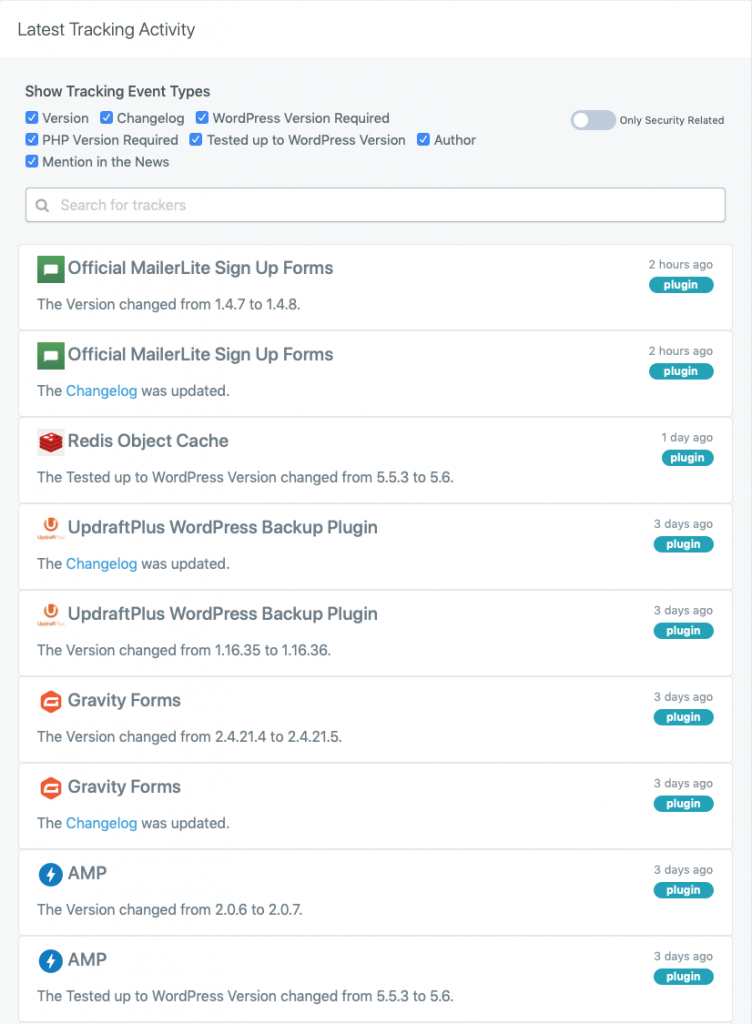 For each tracker in your account, you can click through to the tracker details page. The details page contains summary information about the tracker, a version release history calendar, the latest tracking events, and more.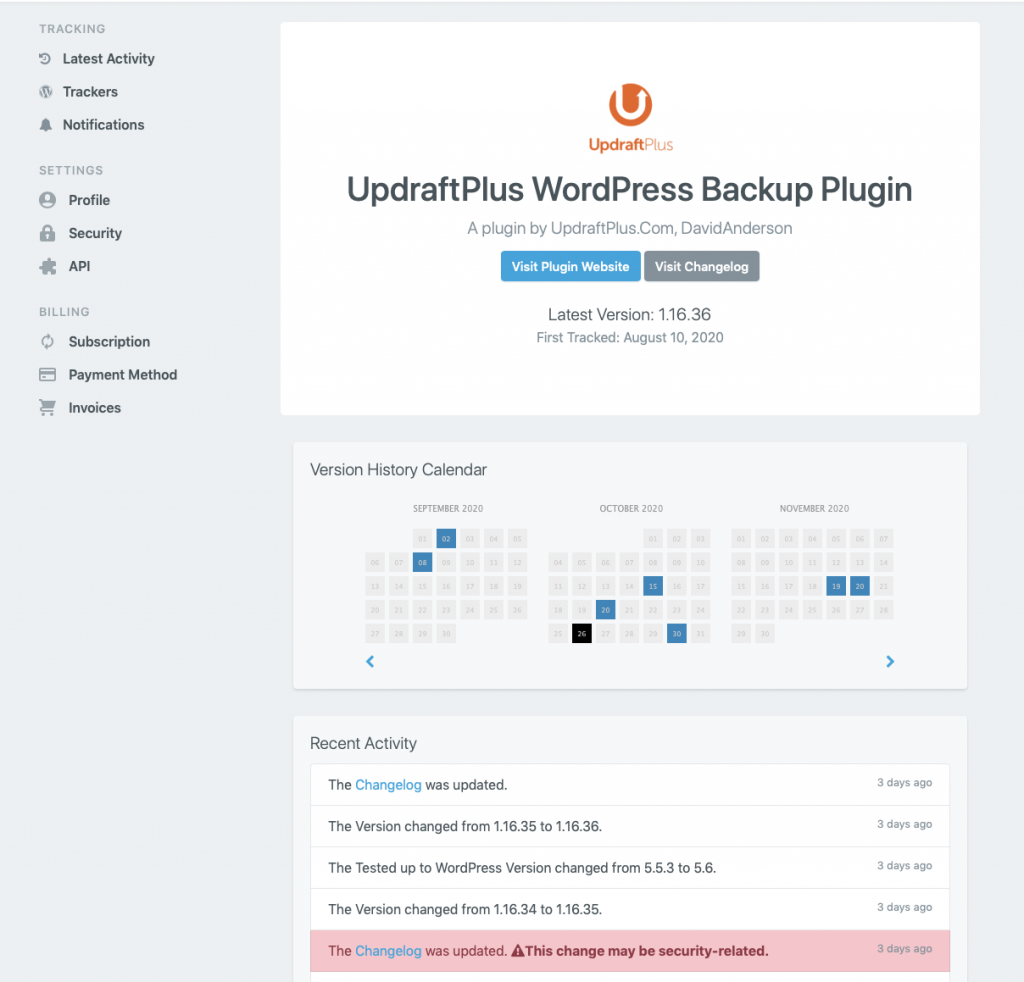 For changelog updates in particular, we try to detect if there's mention of a security issue being fixed and flag those events accordingly. Security events could include generic "security fix" mentions, or specific mentions of vulnerabilities, cross-site request forgery fixes, cross-site scripting issues, and more. (Some plugin and theme authors choose not to include a changelog with their releases, or they link to changelogs hosted elsewhere, in which case the details of a changelog update may not be included in our tracking.)
Ownership updates are another important event that we track for you. When a plugin or theme has a new author listed, we'll notify you about that change.
Any WP Lookout user can opt to receive a daily digest of the important changes that happened over the previous 24 hour period. The digest email will list out all of the themes and plugins that saw updates and, where relevant, link you to the details.
Our paid plans also include support for immediate notifications, so you can get an email message in your inbox as soon as we know about an update. These are especially useful for when a plugin releases a security fix; you'll be among the first to know so you can quickly test and update the plugin and reduce the risk of site compromise.
Some plans also support the use of RSS feeds and notifications by Slack and custom webhook URL. Learn more about managing notifications.
Right now you can add trackers for WordPress.org themes and plugins, WordPress core releases, WooCommerce.com Extensions and a variety of other premium plugins such as Advanced Custom Fields PRO, FacetWP, Gravity Forms, SearchWP, Users Insights and WP Rocket. (WP Lookout is not affiliated with or endorsed by any directory or plugin or theme author.)
We're always adding support for new kinds of themes and plugins that are released and managed outside of the WordPress.org directory. If there's a plugin or theme you want to suggest, please let us know!